The Fehl Lab is passionate about developing chemical tools to unravel the complex mechanisms cells use to regulate their gene expression. We apply these tools to the diseased metabolic aspects of cancer, diabetes, and neurodegeneration, in particular by manipulating how cells use sugar levels as key signaling regulators.
Our key techniques include organic synthesis, biocatalysis, cell culture, proteomics, and bioinformatics to identify signaling pathways to reprogram pathological epigenetic pathways in disease.
News
May 25, 2023     More May good news- Saheed's paper, "Hyperglycemia and O-GlcNAc transferase activity drive a cancer stem cell pathway in triple-negative breast cancer" is published today in Cancer Cell International! Check it out here: https://cancerci.biomedcentral.com/articles/10.1186/s12935-023-02942-6
May 24, 2023     The Fehl Lab is super excited to be recommended for funding by a National Science Foundation CAREER award for "Illuminating O-GlcNAc-driven functions of the human proteome." The goal of this project, funded for the next 5 years, are to rapidly discover new knowledge of how sugars control our cells!
April 28, 2023     The Fehl Lab ended the winter term with a visit to the newly re-opened Belle Isle Aquarium, supposedly the oldest aquarium in the US. The beautiful green tile and definitely the rainy day outside made us feel right at home with all the sea life!
February 20, 2023     Kicking 2023 off right, the Fehl Lab was selected to receive a prestigious Research Grant from the Mizutani Foundation for Glycoscience! This Japanese foundation funded 15 projects globally including our light-controlled sugar tools to allow us to study insulin signaling in super high-resolution detail!
https://www.mizutanifdn.or.jp/grant/grantees/report.html
(Cake awarded by "For The Love of Sugar" bakery in Detroit!)
December 17, 2022   We're incredibly proud to announce our FIRST awarded PhD to DOCTOR Courtney Kondor. Huge congrats! And a huge honor to be able to be there to hood a wonderful student. We're sad to see Courtney go, but she's using her chemistry skills to make challenging sugar-based molecules over at Cayman Chemical Company. All the best, Courtney!
December 8, 2022   The year ends with new beginnings. A warm welcome to THREE new PhD students, Caleb, Steven, and Kadiri. We celebrated with a quick trip to the Detroit Institute of Arts!
September 12, 2022   Charlie joins the Bioorganic & Medicinal Chemistry and BMCL Early Career Advisory Boards! Looking forward to dipping my toe into the scientific publishing community.
https://www.sciencedirect.com/journal/bioorganic-and-medicinal-chemistry/about/editorial-board
September 9, 2022   Recruiting season is back! Fun double group outing with the Fehl and Bour Labs to catch some late summer fun. Monroe Street Midway, downtown Detroit.
August 10, 2022   Charlie and #glycotime colleague Hien Nguyen are excited to bring you the 17th annual Midwest Carbohydrate and Glycobiology Symposium (MCGS)! Registration for this great event is FREE and includes a fantastic lineup of speakers
July, 2022     The Fehl Group escaped the Chamber of Illusions! Lots of fun…but bittersweet because we say goodbye to our wonderful postdoc Jess! She's off to great things, like being a new PROFESSOR at Nazareth College Dept. of Chemistry & Biochemistry. Congrats, and all the best, Jess!
July 12, 2022     Our second paper this month! Well done to Yimin, Zack, and Ali for a "sweet" new tool for tracking O-GlcNAc sugar modifications on proteins in live cells. It's online now at ACS Chemical Biology:
https://pubs.acs.org/doi/full/10.1021/acschembio.2c00282
July 8, 2022     Congrats to Courtney, Jaggaiah, and Garry for publishing their paper that created super fast, light-released sugar tools! Check it out now at Bioorganic & Medicinal Chemistry:
https://www.sciencedirect.com/science/article/pii/S096808962200311X?dgcid=author
May 20, 2022    Big news! Our first PhD from the Fehl Lab successfully defended her thesis! Congratulations, Courtney Kondor! On to a bright future in organic synthesis with Cayman Chemical Company!
May 6, 2022   Congrats, Fehl Lab undergraduate students on graduating! Sydni Alexis Elebra, Austin Agrusa, and Vince Pallo completed their undergraduate degrees. We wish you all the best and will miss you very much. Very well done, all!
May 1, 2022    Awards, awards, awards!
Saheed won WSU Chemistry Department's "Best Biochemistry Graduate Student" for his teaching + research + service in our department. Huge thanks and congrats!
Dan award 1: Cal Stevens Memorial Fellowship (organic division research). Congrats!
Dan award 2: Teaching Excellence award from the WSU Graduate School. Congrats!
April 13, 2022    Yimin and Zack's paper is nearly accepted! New "GlycoID" tools capture glycoprotein "hubs" in cells that are modified by O-GlcNAc sugars during insulin signaling. Well done, team! https://www.biorxiv.org/content/10.1101/2022.04.13.488185v1
March 16, 2022    Saheed's first paper to hit the books is now up on bioRxiv: "Hyperglycemic O-GlcNAc transferase activity drives cancer stem cell induction in triple-negative breast cancer." Congrats, Saheed! Check it out here: https://www.biorxiv.org/content/10.1101/2022.03.14.484003v1
Dec 21, 2021    Check out our latest paper, "Tools, tactics and objectives to interrogate cellular roles of O-GlcNAc in disease" @ Nature Chemical Biology. We were able to highlight the GlcNAc community's most impactful findings and summarize key challenges for our field…which of course the Fehl Lab is all about solving! https://rdcu.be/cDDG6
Dec 1, 2021     Exciting news! Our own Dr. Jess Stachowski will be starting her own academic lab at Nazareth College, NY. Super exciting, and huge congrats on your tenure-track position. You'll be an amazing teacher-scholar!
Sept 21, 2021   Our new "Perspective" piece about the future of O-GlcNAc chemical tools, written with early GlcNAc pioneer John A. Hanover, was just accepted at Nature Chemical Biology!
Sept 01, 2021   First award of the new school year! Congrats to Garry on his IMSD Fellowship (Initiative for Maximizing Student Diversity). This is a T32 Training Grant program from the National Institues of Health. Congrats, Garry!  https://imsd.wayne.edu/
Aug 18, 2021   Our Fehl Lab summer outing was a total success. Kayaking the Detroit River was a great way to move our explorations outside of the Lab!
July 30, 2021   Not one, but two of our fantastic undergrads received research awards. Very well done, Sydni and Vince!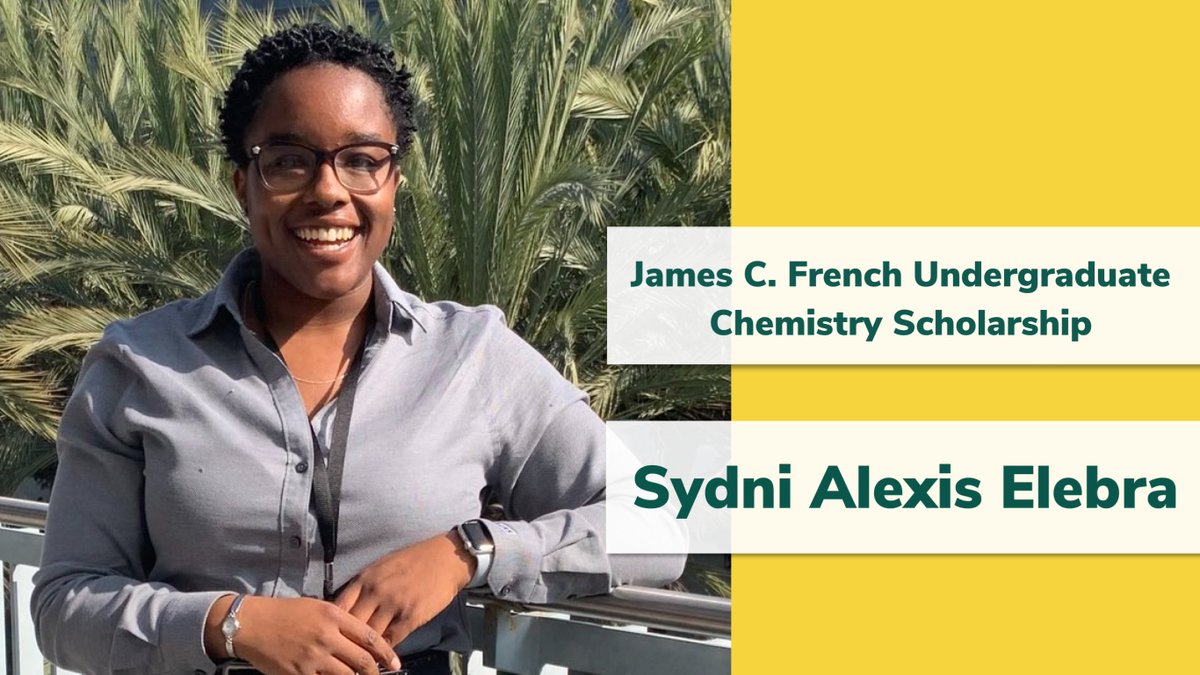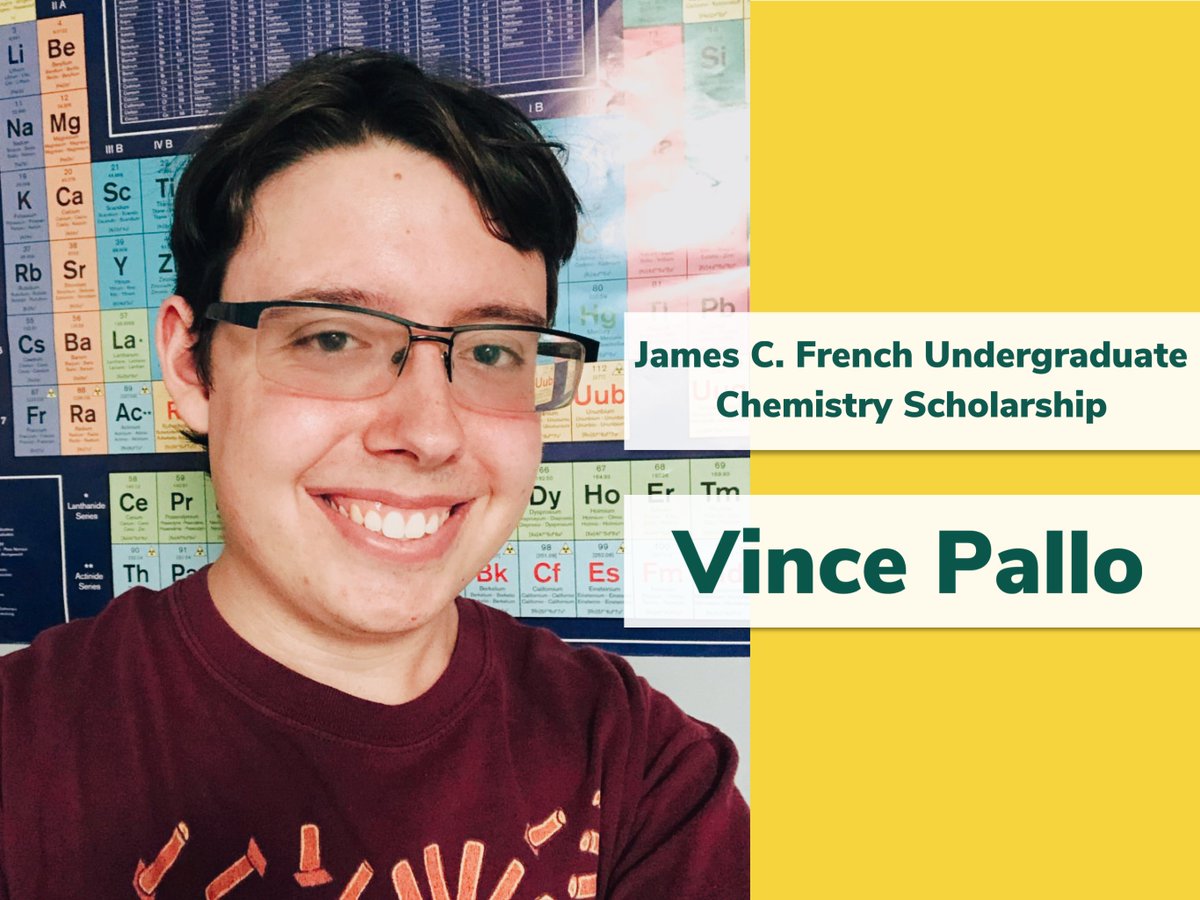 July 1, 2021   Our light-activated tools were selected for funding by a prestigious R35 grant from the NIH. Congrats to all who contributed data! (Jaggaiah, Courtney, Zack, Yimin, Saheed!) This grant generates chemical biology tools to follow O-GlcNAc protein effects in real-time, telling us which processes go awry between sugar metabolism and diseases like breast cancer.
June 29, 2021 Our teacher-scholars Saheed and Dan received recognition for his strong teaching. Congrats!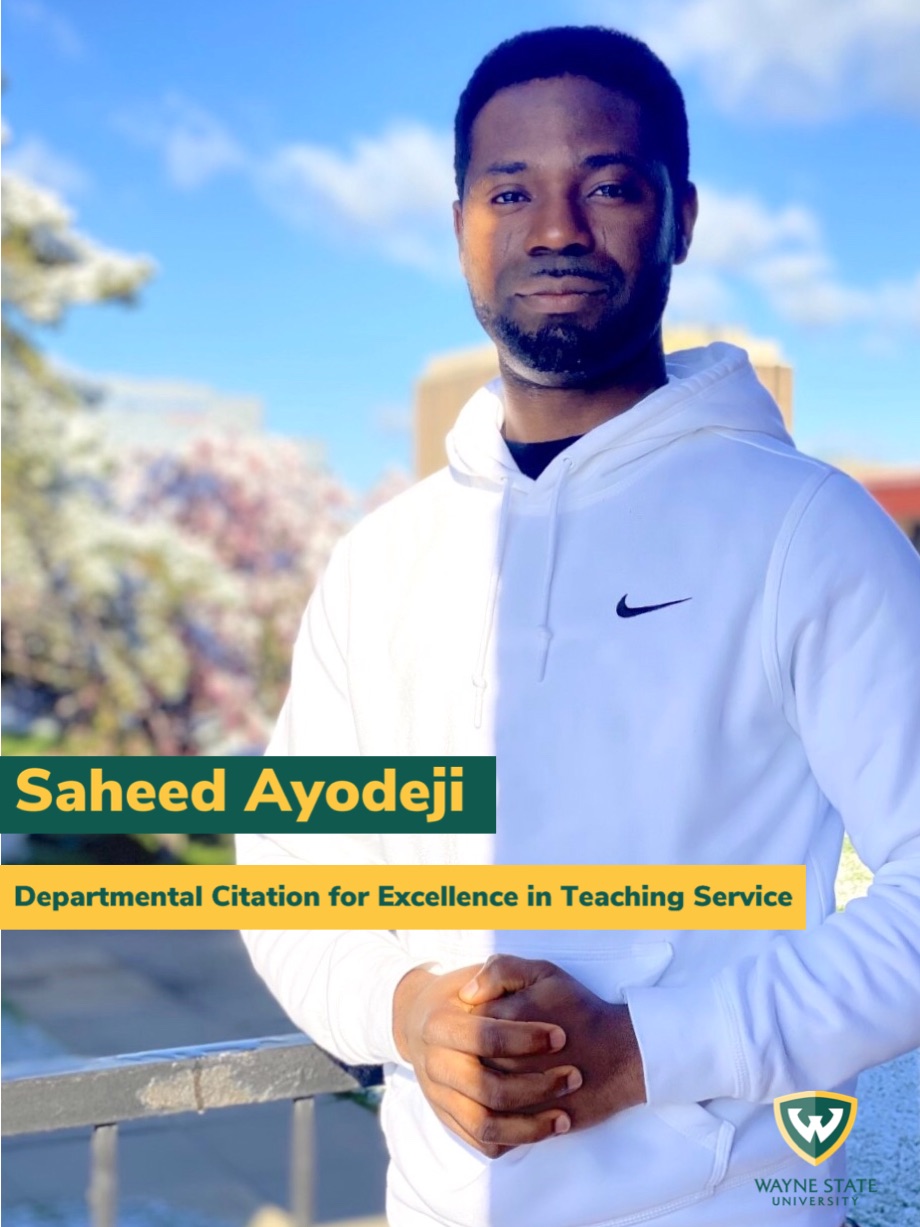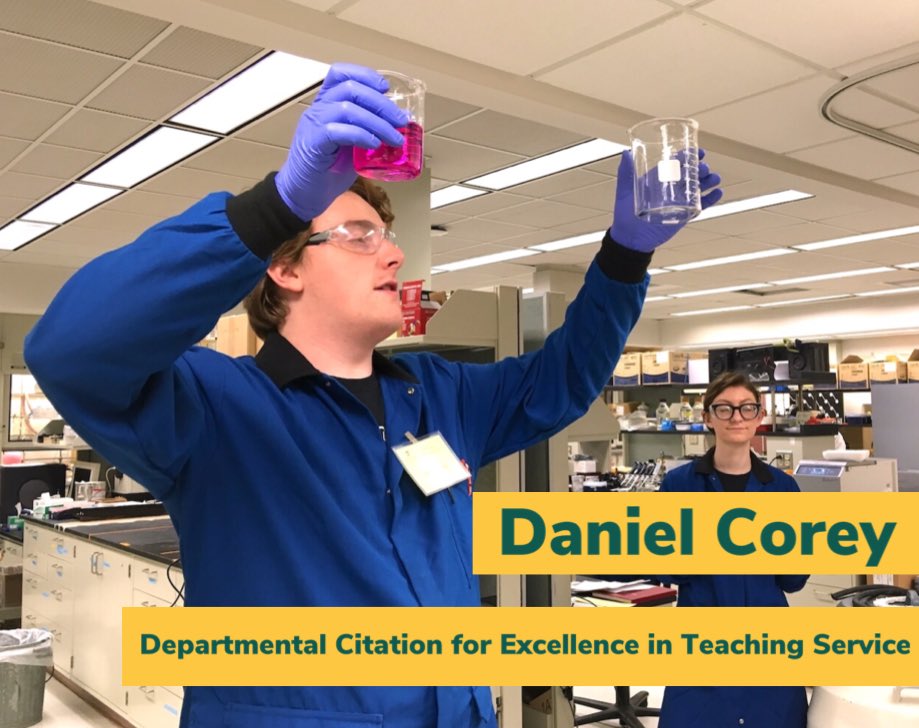 June 25, 2021 Huge congrats to Courtney, who received a Cal Stevens award for her research excellence. Keep up the strong work!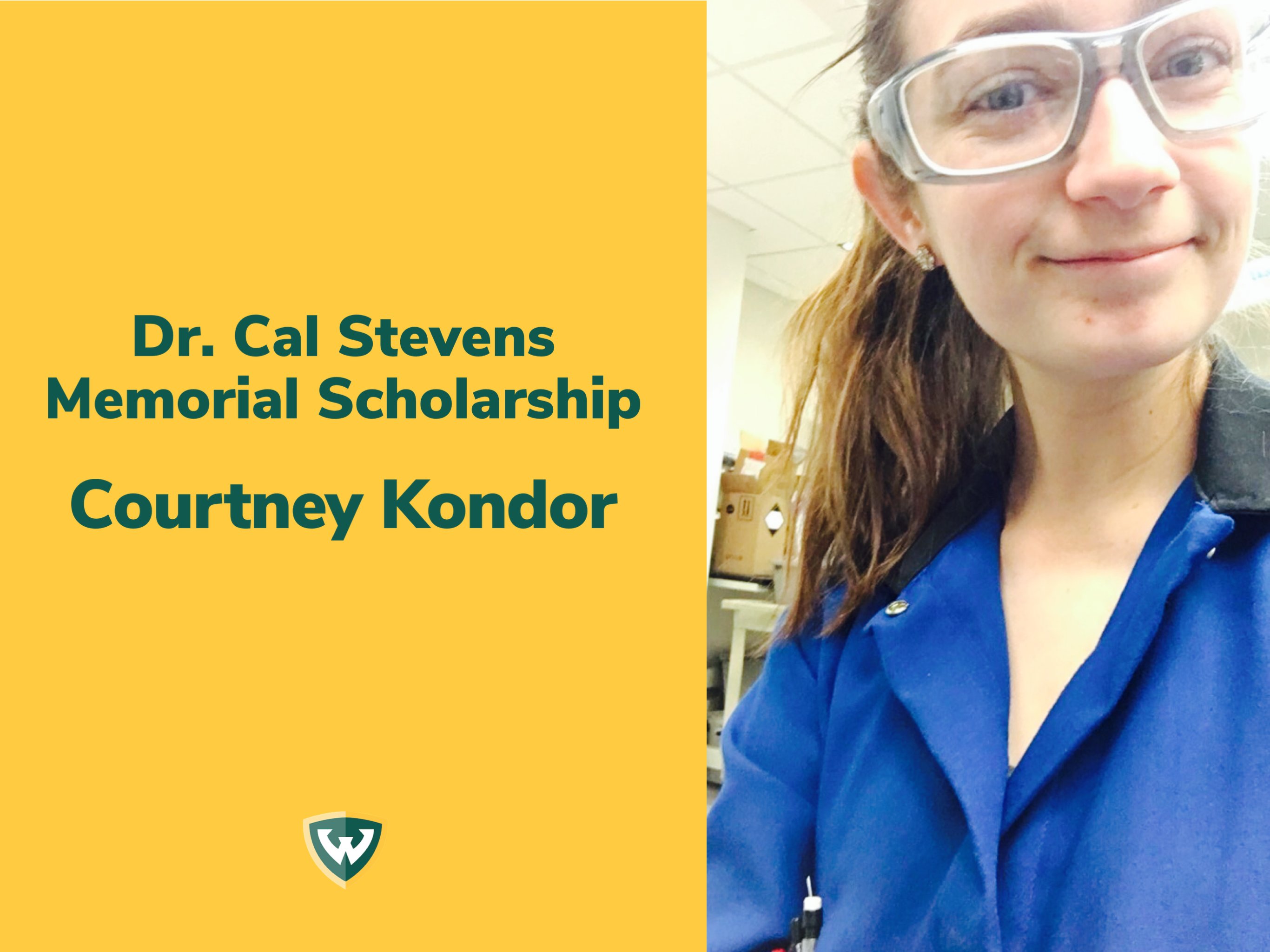 Jan 15, 2021   Jessica and Dan's review on O-GlcNAcylated peptide + protein generation is out! Check out our lab's first Review at ChemBioChem here. Congrats!
Dec 16, 2020   We also welcome Garry Leonard to the lab! Garry is super excited to build new light-controlled metabolic labeling tools for glycoscience.
Sept 2, 2020   We formally welcome Sydni to the lab! (though she joined us virtually in summer) New organic chemist on the block!
Sept 2, 2020    Congratulations to Jessica on the award of a Dr. Cal Stevens Memorial Scholarship! May it take you to great places.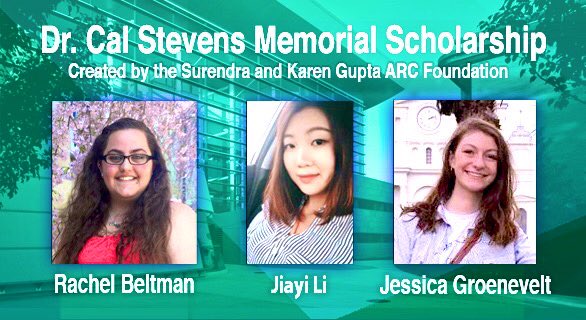 August 27th    Kicking off the new term and celebrating 2 years as the Fehl Group on Detroit's beautiful Belle Isle. This is a group with style…and attitude!
Aug 3, 2020    We welcome a new postdoc, Jess Stachowski, to the Fehl Lab! Congrats on your WSU Postdoctoral Research Fellowship, too!
July 31, 2020    Saheed's continued service in NOBCChE's board is stellar. Keep it up!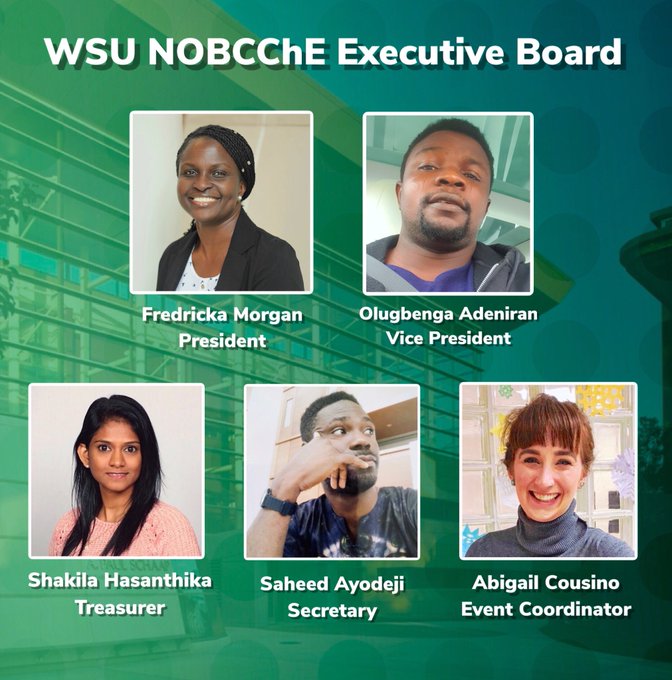 (and passing his candidacy exam on June 10th!)
May 30, 2020   Vince wins an Uzomo Azuh Endowed Memorial prize in Chemistry. Well done, Vince!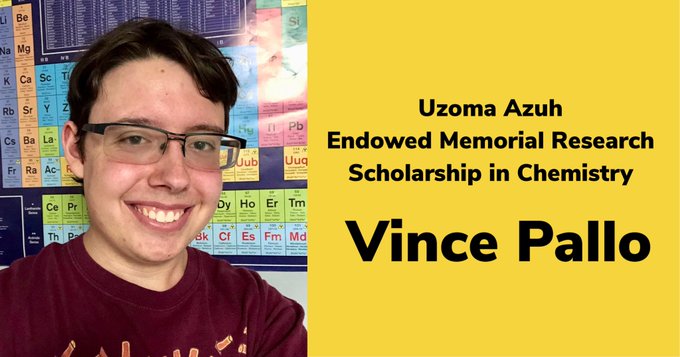 May 22, 2020    Charlie wins a Faculty Development Award from Wayne State University.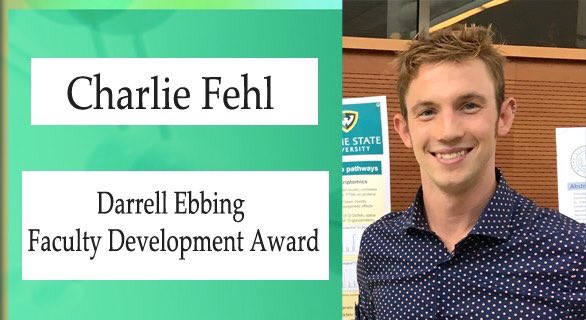 –March-May: Brief Lab shutdown…keep safe, everyone–
Nov 14, 2019   Congratulations to Jessica for achieving a Eugine Perrin Science and Peace Fellowship from Wayne State University! We will march one step closer to world harmony using her anti-diabetes peptide probes.
Mole Day, 2019 (October 23rd)   We pulled it off! The Wayne State American Chemical Society Student Affiliates (Chem Club), co-advised by Charlie Fehl and Sue White, constructed the World's Largest Periodic Table of the Elements for STEM outreach:
Check out the story here: Fox 2 News and the Detroit Free Press
Thanks to WSU, University of Detroit-Mercy, the University of Michigan (Flint and Dearborn campuses), Lawrence Technological University, and the Detroit Local Section of the American Chemical Society for support and volunteers!
June 27, 2019  Congratulations to Zack who was awarded an Initiative for Maximizing Student Diversity Fellowship from the Wayne State Medical School!
June 23, 2019  More Fehl Lab exposure at Carbohydrates Gordon Research Conference!
June 2, 2019  Fehl Lab exposure at the High Throughput Chemistry and Chemical Biology Gordon Research Conference
March 16, 2019 Neinas Academy joins the Fehl group for fun with science. Well-handled by the group…though Jessica looks concerned about proper technique!
January 21, 2019 Dr. Jaggaiah Naidu joins us as a postdoctoral scholar specializing in carbohydrate synthetic chemical biology. Welcome!
December 6, 2018 We officially welcome our first group of graduate students: Jessica Groenevelt, Dan Corey, Zack Nelson, and Saheed Ayodeji…let's do great science!
Oct 13, 2018 Charlie is selected to give the keynote lecture at the ACS Detroit Chapter "Chemistry in the Motor City" Symposium. Great talks from UT, OSU, Umich, and WSU!
Sept 15th, 2018 Minor equipment failure (the light switches) gives a cool photo op:          –> Doug and Ali getting our E. coli strains up and running
September, 2018 The lab begins! We welcome Ali, Doug, and Anthony–Undergrad Research Assistants–and Yimin, lab manager, to drive our tissue culture, molecular biology, and bioinformatics!
August 15, 2018 Goodbye old equipment – more space for rotavaps!
August 8, 2018 The Fehl Lab officially opens! I look forward to meeting the new class of WSU Chemists!
April 7, 2018 Charlie is honored to join Wayne State Chemistry to study the epigenetic signaling pathways of sugar-protein conjugates. The lab-building begins…